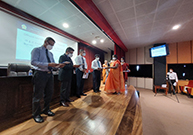 IT and IT Enabled Services Survey 2016 & 2017
---
Since the IT and BPM industry plays a crucial role in the country as a prominent industry, the Department of Census & Statistics (DCS) being the National Statistics Office in Sri Lanka, decided to conduct an establishment level survey covering ICT and BPM companies in the formal sector with the view of measuring the contribution to the economy as well as the size of the industry. The IT and ITES Survey conducted by DCS, became the first ever survey in Sri Lanka to estimate the revenue of the industry, which covered both export and local market.
More ...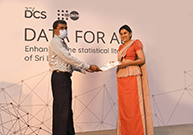 Enhancing the Statistical Literacy of Visually Impaired Communities
---
In marking the International Day of Persons with Disabilities 2021, the Department of Census and Statistics (DCS) launched its first ever braille and large-print publications and its digital publication named "DCS at a Glance", with the aim of enhancing the statistical literacy of visually impaired communities. Mr. Anura Kumara Director-General of DCS hands over an English Braille publication to Ms. Manique Gunaratne, Manager of the Employers Federation of Ceylon.
More ...